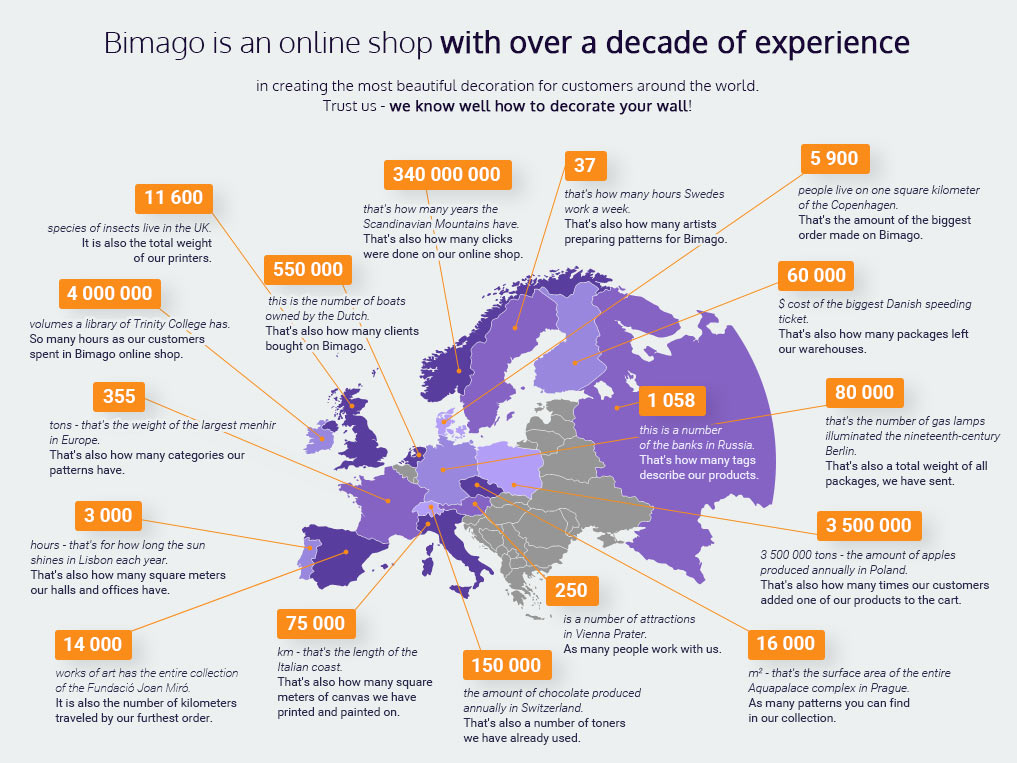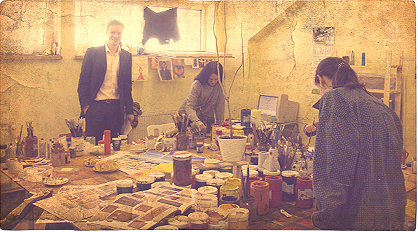 photo: Down memory lane - so we started in 2004
If you would visit us 11 years ago, when we have started work at Bimago, you certainly won't recognize our office. Not only because it was located in an apartment of the founders grandmother. There also wasn't a crowd of people or large printers. However, there were three young artists with a plan of changing the world... well, at least to beautify it a little. Our first paintings were created in that same apartment and hanged on the walls to dry while we organized an international transport - to the surprise of local residents unaware there was an art gallery next door.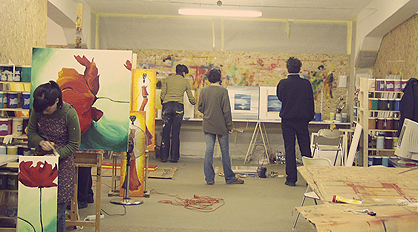 photo: Paint shop. The work is on!
Surprisingly quickly the moment came when orders appeared one after the other. Production was planned for a month ahead, and painters worked hard at night, encouraged by hot pizza and jokes of the logistics department, preparing the parcels side by side. Then came time for the first printers. We were as thrilled as children on Christmas Eve, designing patterns for digital images or photographs! To find a place for the new acquisitions (the beginnings of our technological park), eight months after the business launch we moved to a new building with big potential and inspirational atmosphere. You will find us there even today - although the area of our offices and production halls has grown nearly tenfold.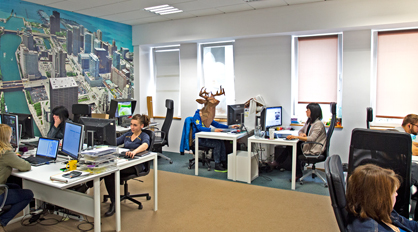 photo: Designers at work. On the office walls - Bimago wallpapers :)
Our team was international already from the start. As a result, our perspective has never been limited to only one country. We thought more broadly! At the beginning, most of Bimago paintings went to the homes of German families. Today Bimago supports 11 languages for 17 countries, furthermore our wall decorations found their way a total of more than forty countries around the world. Very distant countries as well - Brazil and Congo. But our records shows packages that travelled up to 14000 km to reach customers in Australia.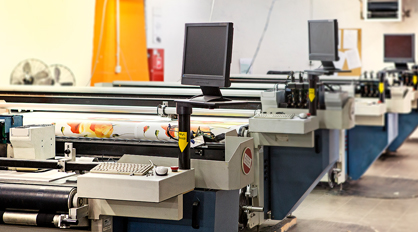 photo: Bimago Technology park.
We come a long way from a startup in a small apartment to an international company with global sales. In 2015 our team counted over 250 employees working in offices and halls with a total area of over than 3000 m2! We have created more than 16 000 original patterns and our 24 printers are just waiting to produce a canvas print, wallpaper or a sticker. We hope that you will find a decoration for your home and join the group of more than 550 000 satisfied customers!
Original patterns and techniques:

You can choose a hand-made painting, canvas print or Premium Print - a technique specifically created for Bimago with original patterns of talented designers.
Quick and simple assembly

We put a lot of work in our products, so you would no longer have to! You can get your paintings assembled on stretcher bars, wallpapers on easy to stick material, and stickers placed on a convenient foil.
Understanding everyone

Do you only speak Swedish? Relax, we will find a common language! We speaks up to 11 languages - including Swedish, Portuguese and Dutch
The choice is fully yours

Thicker loom, another technique, larger size? No problem - select a painting or a wallpaper that best suits you and your home.
A shop you can trust

Our online store is secured through SSL encryption. Return policy allows you to return the purchased goods within 30 days and the customer service will be happy to answer any of your questions.
Delivery to any country in the world

So far our products have been delivered to over 40 countries. We will be pleased to increase this number for you - just tell us where your home is and we will deliver it to your door