Wallpaper Beauty of Marble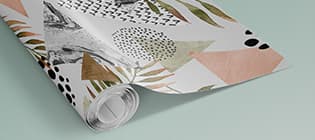 Non-Woven Wallpaper
digital large-format printout on fleece with a weight of 110 g / m²
50 cm wide wallpaper rolls, easy to install
wall application with wallpaper glue - so before the glue dries, minor corrections to the placing on the wall are possible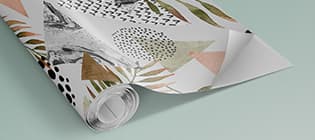 Self-Adhesive Wallpaper
large-format digital printout on self-adhesive material (49 cm wide stripes)
easy application, no glue needed - we put the wallpaper on the wall as a large sticker
apart from wall decoration, it also works great for decorating furniture
Magma wallpaper "Beauty of Marble"
We would like to recommend you our amazing wallpaper Magma product offer. Their amazing feature is that at one roll you can find unrepeatable motif. In collection you can find motifs, that imitate wood inspired with street art or wallpapers with quotes from "The Little Prince" book. Wallpapers Magma were designed in the way, that allows you to combine them in any place. It will help you create wall decoration, which will be one of a kind. Wallpaper Magma Beauty of Marble is created for those, who are looking for interesting solutions in interior design. Inspiring pattern guarantees, that this wallpaper won't look unoriginal and boring. Elegant pattern of Magma wallpaper will perfectly present in sitting room, office or even bedroom.
Thanks to Beauty of Marble Magma wallpaper creating modern interior design will be fast and easy. It's a good idea to put Magma wallpaper on one from walls and leave other in delicate colours. This solution can be used in any type of interior- dining room or sitting room. Check out our amazing collection of inspiring Magma wallpapers on bimago shop.