Car under Palm Trees

Size
<%= dimensions.w %> x <%= dimensions.h %>cm
Price:
All prices include tax!
$43.88

<%- discountprice %>
Nasze artykuły wysyłamy do różnych krajów europejskich za pośrednictwem najbardziej renomowanych firm kurierskich. Na terenie Polski za dostawę naszych paczek jest odpowiedzialny kurier UPS.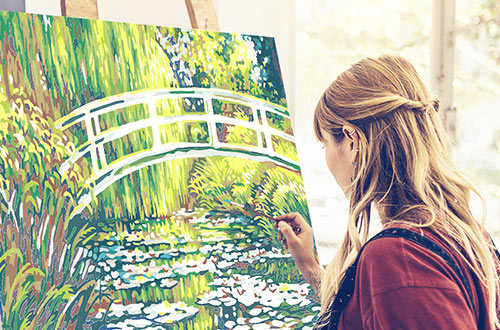 1. Daj się zainspirować
I Ty możesz być artystą! Marzy Ci się chwila powrotu do beztroskich czasów dzieciństwa? Odkryj najnowszy hit wśród modnych kreatywnych hobby: obrazy do samodzielnego pomalowania. A może szukasz ciekawych sposobów na wspólne spędzanie czasu w gronie rodziny lub przyjaciół? Siądźcie do malowania razem - gotowy obraz będzie piękną pamiątką wspólnie spędzonych chwil!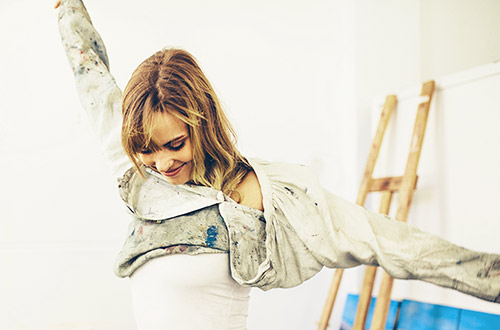 2. Przygotuj się do zabawy
Nasze obrazy do malowania po numerach wysyłamy z kompletnym zestawem akcesoriów potrzebnych do stworzenia unikatowego dzieła sztuki. W skład zestawu wchodzą:
komplet pędzelków o różnej grubości włosia;
dobrany do konkretnego motywu zestaw farbek akrylowych w słoiczkach (nie wymagają mieszania!);
schemat wzoru z pokolorowanymi polami - aby łatwiej się malowało;
nadrukowany na płótnie wzór z ponumerowanymi polami - naciągnięty na krosno i gotowy do powieszenia.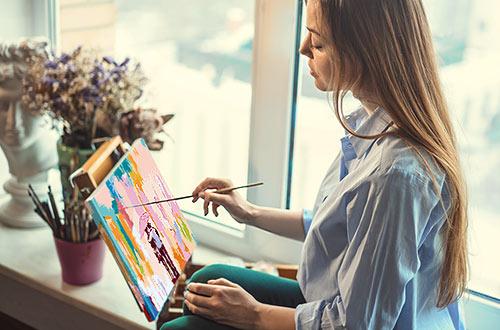 3. Usiądź wygodnie i maluj!
Malowanie po numerach to modne ostatnio hobby i wyjątkowy sposób na ciekawe spędzanie wolnego czasu! Czy wiesz, że malowanie korzystnie wpływa na Twoje ciało i umysł?
pomaga się zrelaksować;
uczy cierpliwości i skupienia;
pozwala doskonalić precyzję ruchów;
rozwija zdolności manualne;
wspomaga koordynację ruchową;
rozwija kreatywność.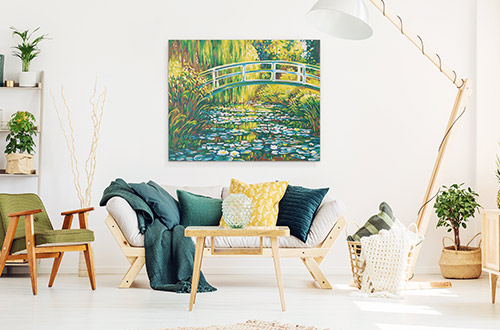 4. Podziwiaj swoje dzieło sztuki!
Obrazy do samodzielnego malowania od bimago. będą się prezentować doskonale na ścianie Twojego domu!
Obraz jest naciągnięty na drewniane krosno i nie wymaga dodatkowej oprawy - wystarczy, że zamalujesz również jego boki.
Do zestawu dołączamy profesjonalne farby akrylowe: nieblaknące i szybko schnące.
Kontury i numery pól są wyraźnie oznaczone, łatwo dobierzesz więc właściwe kolory.
Wszystkie wzory zaprojektowali nasi artyści: dobrali oni też odpowiednie kolory, byś mógł korzystać z gotowej palety barw.
Podziel się pasją
Obrazy do malowania po numerach to także
oryginalny pomysł na modny prezent dla wszystkich artystycznych dusz!

Jako zestaw do malowania
by obdarowana osoba mogła się kreatywnie zrelaksować

Jako podarunek na spotkanie z przyjaciółmi
by miło i kreatywnie spędzić razem czas

Jako gotowy, samodzielnie namalowany obraz
by sprawić ukochanej osobie prezent prosto z serca
1. Przygotuj stanowisko pracy: zabezpiecz papierem stół, rozłóż farby i pędzle, przygotuj kubek z wodą oraz papierowy ręcznik do wycierania pędzli. Możesz także włożyć odzież ochronną, np. lateksowe rękawiczki lub fartuch.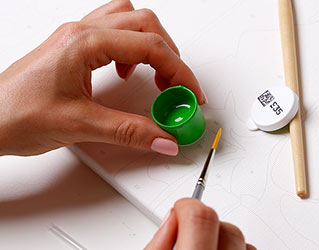 2. Pracę możesz zacząć od dowolnego koloru, np. od tego, który najbardziej Ci się podoba. Wybierz kolor, od którego chcesz zacząć, zapamiętaj numer umieszczony na wieczku i ostrożnie otwórz pojemniczek z farbą.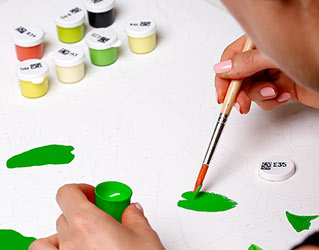 3. Weź do ręki pędzel, znajdź pole z numerem farby, którą wybrałeś i rozpocznij malowanie. Znajdź i kolejno wypełnij wszystkie pola oznaczone numerem wybranego koloru. Jeżeli po zamalowaniu pola wciąż widoczne będą liczby lub kontury, nałóż grubszą warstwę farby.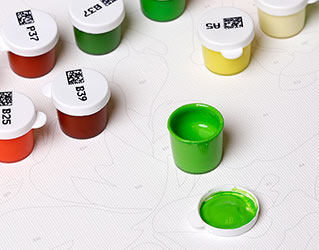 4. NASZA RADA: aby uniknąć pomyłek i ograniczyć ilość zużytej farby, używaj jednocześnie tylko jednego, wybranego koloru. Po zamalowaniu wszystkich pól zamknij pojemniczek i wybierz następny kolor.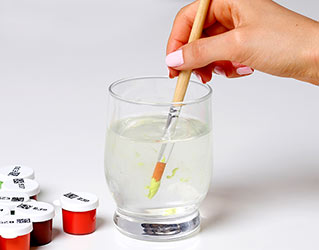 5. Pamiętaj, aby przed zmianą koloru dobrze wypłukać pędzel w wodzie i wytrzeć go ręcznikiem papierowym. Aby zapobiec szybkiemu wyschnięciu farbek, pamiętaj o zamykaniu pojemniczków zaraz po użyciu.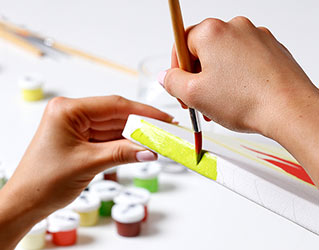 6. Na koniec zamaluj boczne krawędzie obrazu. Po wyschnięciu farb Twoje dzieło jest gotowe do powieszenia na ścianie!