Maps, frames and decorative organizers on the cork
New collection of patterns designed by bimago, printed on canvas hiding... a layer of cork.
Resulting in - our known and loved pinboard is making a comeback!
The original sets of photography frames, inspiring city plans and a wide selection of maps in different styles and colors - a real delight, especially for travel enthusiasts and explorers.
Follow your routes, tick visited places, create galleries of souvenirs and pin photos.
When you complete your map with the finished journeys, take a new pin and see which place is waiting for your visit.
Specifications
eco cork board with a 3 mm thickness.

light, wooden stretcher bars with a special cut that allows a cork layer between the canvas and the stretcher bars.

synthethic canvas allowing to show every little detail of a map

sides of the picture covered with print

ductile material, which you can post pins and pull them out without the risk of damaging

high-resolution print, not waterproof
Please note: pins are not included
Create your own travel map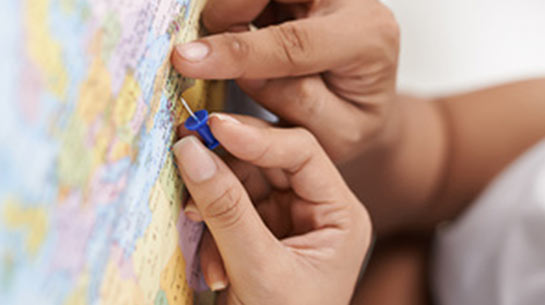 designate your future and past journeys by decorative lines
pin your notes to mark your favourite places on the map
create photo and souvenir gallery from visited places
personalize social room in your company - tick staff's journeys
a great idea for a practical gift for your friends
unusual support for children and teenagers learning geography